An Artist
The following artist has always fascinated me. Not only because of the vibrant colors used in his paintings and murals but because of the life he spent in near seclusion.
Walter Inglis Anderson was born in 1903 in New Orleans LA. He traveled throughout Europe and was particularly impressed with the cave art he saw at Les Eyzies in France.
He, his wife, and children moved to Gautier MS someitme in the 1930's.
In 1947, with the understanding of his family, Anderson left his wife and children and embarked on a private and very solitary existence. He lived alone in a cottage on the Shearwater compound, and increased his visits to Horn Island, one of a group of barrier islands along the Mississippi Gulf Coast. He would row the 12 miles in a small skiff, carrying minimal necessities and his art supplies. Anderson spent long periods of time on this uninhabited island over the last 18 years of his life. There he lived primitively, working in the open and sleeping under his boat, sometimes for weeks at a time.Walter Anderson Museum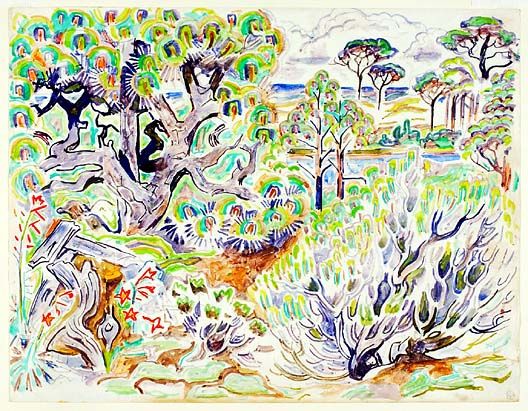 Horn Island
Smithsonian Institute
I don't really appreciate the his art as much as I do Impressionism but none the less, his paintings are compelling. His life style was eccentric to say the least and he suffered from severe depression. Today, he would more than likely have benefitted from the new drugs available to combat this dis-ease. But I wonder, if he did have treatment for it, would his paintings be the same?