A New Beginning
Arising like a phoenix from the cleared rubble of our offices, a new beginning: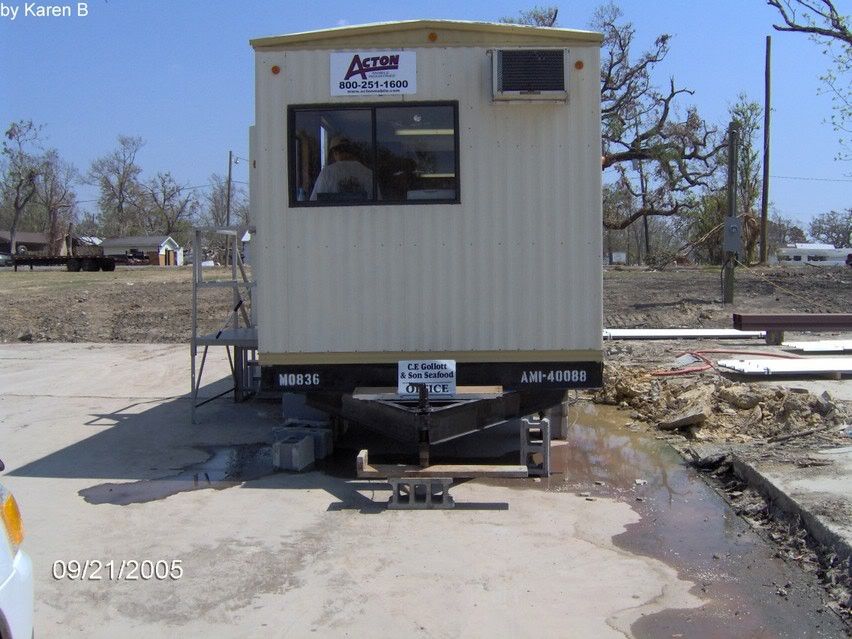 It's a 30x10 trailer and will have to hold 7 or more people. But we'll manage. The back of the trailer which will be my office and one other is where my desk used to be in the old office. One of my bosses remarked that now I had a great view of the Back Bay. Which is true because Katrina wiped out the houses and most of the trees which were behind there.
Work has begun on the freezer and the newest section will be repaired first so that we can start freezing shrimp again. We maybe able to start peeling shrimp in about 3-4 weeks. There were a couple of seafood plants on the south side of Biloxi Back Bay that survived and arrangements are being made to use those facilities at night so we can go into production. A lot of our customers have contacted us via e-mail and are awaiting our product.
Most of the rubble of the seafood plant has been cleared. It will not be to soon before construction of the new plant will begin.
Once again the utility companies have performed another miracle. There is virtually nothing left the two blocks were our business is and yet Mississippi Power was able to restore our power. Bellsouth performed another miracle today and we now have phones at the offices!!
Mississippi and it's people rock!!! Reconstruction and rebuilding are going at a faster pace then was first believed. Just keep watching. Hurricane Katrina may have changed our world, she may have taken very precious lives, and she may have destroyed so much but there is one thing that Katrina are any other hurricane can destroy and that is the will of the people to rebuild and make it bigger and better.
Today has been a very good day. I was able to go to work and any day I can do that is a good day.