Biloxi's Point Cadet
Biloxi is fronted by the Gulf of Mexico on the south and the Back Bay on the north. Point Cadet sits where the two meet. It has long been a haven for immigrants. Yugoslavian names such as Wescovich and Covacevich have been replaced with names such as Nguyen, Tran, and Dinh. It is a community that has had ties to the sea for over a hundred years, from the shrimpers to those who make the nets. It was filled with the small homes of those who worked hard and where family came first. When I heard about the devastation there, I thought I knew what to expect. I was wrong. I have been numb since going there. I couldn't even find where my friend Pete's house once stood. He is okay and is living in Florida.
The following pictures cannot begin to show you the destruction. It was street after street.
I don't know what street this was on.
Howard Ave?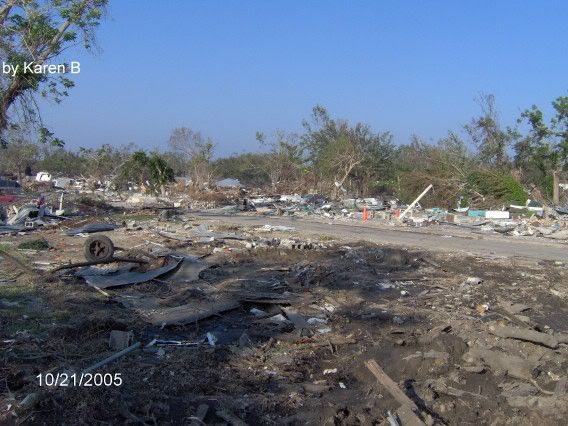 Kuhn St
Oak St
Second St?
The confusion from the streets comes into play because the only street that had a sign was Kuhn St. The others are guesses based on what I remember when I took them. But each of these pictures was taken on a different street. Every where I turned, it was the same destruction.
UPDATE: 10/22/05
This is an aerial view of Point Cadet from
WFAA
.