It Still Hurts
It's been a month since Hurricane Katrina slammed into the Mississippi Gulf Coast and left a trail of wreckage and tears that will take years to overcome. But overcome we shall. There is such a determination to rebuild and improve our beautiful Gulf Coast. Some faces have been lost to us forever. Mississippi lost 220 people to this vicious storm. Red Cross has reported that 65,000 homes in the six coastal counties have been destroyed and a further 38,000 heavily damaged. But yet,the will of the people in these counties remains strong and hope is strong. Sometimes seeing the destruction on a daily basis wears me down but yet I also see the signs of rebirth. It is seen in the clean-up that has begun. The repairing and rebuilding of businesses and homes. The debris being cleaned up. Schools are reopening as are colleges. Life is not standing still and neither are the people of the Mississippi Gulf Coast.
A friend e-mailed me these pictures of what is left of his home. It stood on Highway 90 close to the Beau Rivage Casino(Biloxi). It was over 100 years old and had beautifully carved mantels and wood floors. But he and his wife are not giving up. He sends me e-mails that are full of humor.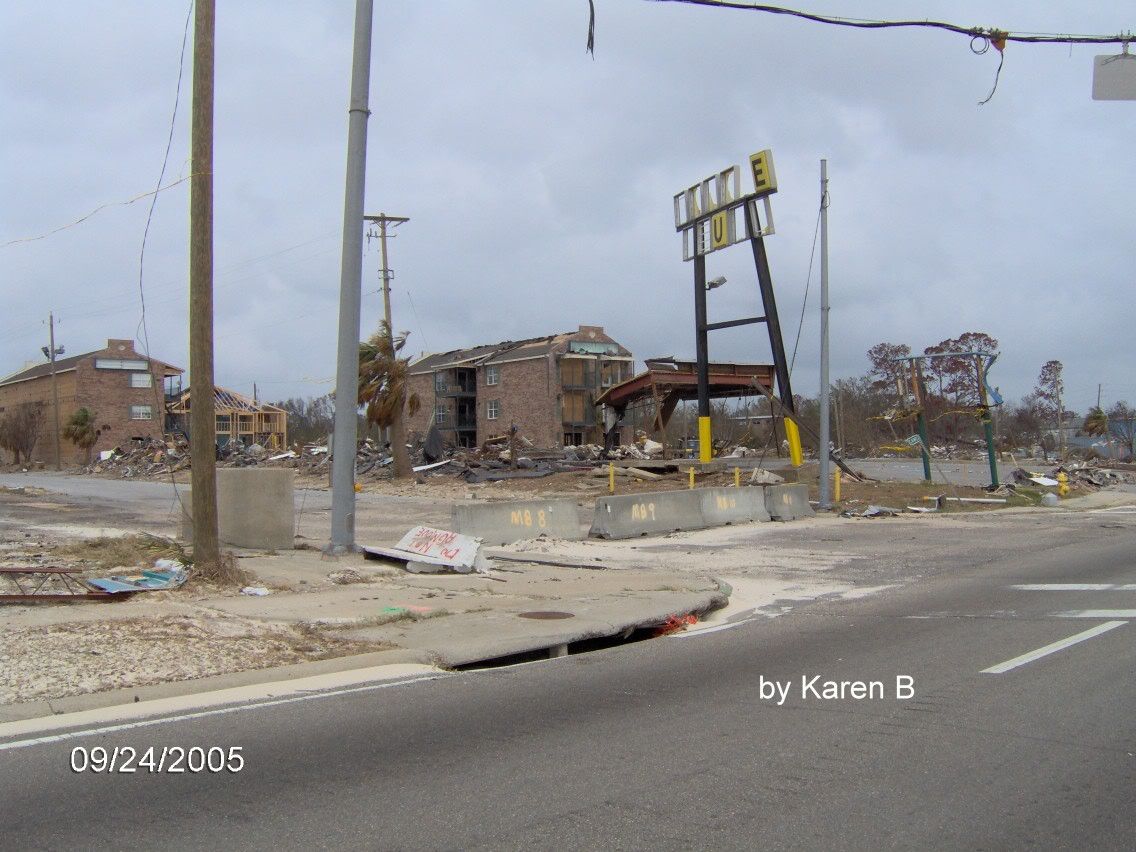 Highway 90(Biloxi). Other than the Waffle House, I couldn't tell you what stood there.
Side street from Hwy 90(Biloxi). Car meets water heater. I don't know what building that is. My brother said it was the Margueriteville but I remember it being further down.
The following pictures were taken within a block radius of where I work(D'Iberville):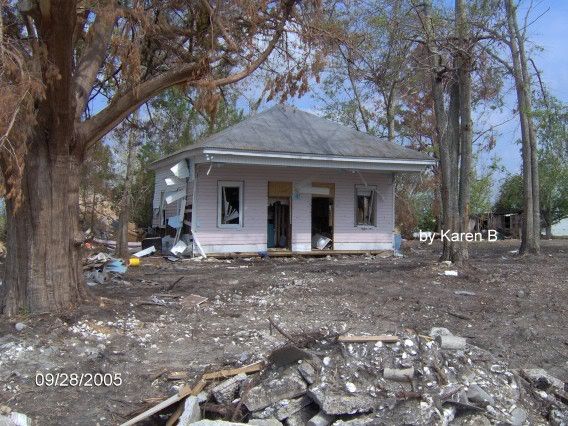 When I first set out to buy a house, I had considered this one. It has been moved about 20 feet to left of where it once stood.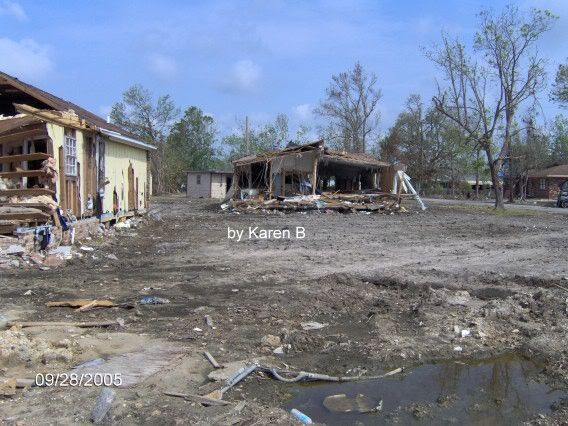 This one was pushed back about 30-40 feet.
A co-worker looks over what is left of a friends house. That is Biloxi Bay in the background.
It is hard to comprehend that 65,000 people have lost their homes. It hurts when some of those homes belong to people you know and care about. The hurt will take time to heal but it will heal. And all those that I know that have lost everything are already in the process of rebuilding their homes and lives.